Choir Room Rules
No food, drink, or gum is allowed in the band room at any time

When seated in a chair, keep all four legs touching the ground at all times

When you choose to leave your music at school, it must be kept in the choir room

Walking only is permitted in any part of the choir room at any time.
Students may be allowed in the music office only with the permission

of the teacher.

As a choir student, you are expected to respect others by the speech you use, and the way you treat other's property.

Students will follow these rules for the purpose of having a more productive choir class this year.
Behavior
Our primary responsibility in choir is to learn music. Any behavior which distracts from or interferes with this learning process will not be permitted.
The CHOIR ROOM RULES are provided as a special guideline for your BEHAVIOR while you are in the band room. Quiet attention to the teacher, remaining in your seat during the class period, and following directions are naturally expected of you in the band just as they are in your other classes. All Teeland School rules and policies, as outlined in the Student Handbook will be strictly enforced.
Normal Rehearsal Routine
It is important to establish a NORMAL REHEARSAL ROUTINE so that daily rehearsal time can be used efficiently. The routine begins as you enter the room.
Immediately upon entering the room, you should help set up chairs, get your music from the music folder rack, and return to your seat. You may then work on your bell work, practice that week's assigned scale or rhythm, practice out of your supplemental material or Rhythm Sheets, or quietly socialize with your immediate neighbor.
Two minutes after the tardy bell has rung, or when everyone appears to be in their seats and ready (whichever comes first), the conductor will start class. At this time you should stop all activities and quietly listen to the director for instructions. Students who are not in their assigned seats by this time will be marked tardy. The director will then take daily participation points. To receive all points you must show your music, book, pencil, and smile.
With 3 minutes remaining in the period, the rehearsal will end. You will, with no further playing, quickly put the chairs away and return to your seat ready for the day's launch.
The class will be dismissed by the director (NOT THE BELL) when:
The room has been returned to its original state of order.

All students are sitting quietly in their assigned seats.

The director has made all necessary reminders and announcements.
Materials Grade
Each Student will need the following items in class every day:
1/2" 3-ring binder

Sharpened pencil (NO PENS)

Music and Music Folder
You will be responsible for all items. If you cannot afford any of these items, let the director know so that assistance can be arranged.
Performance Attire
All Choir members must have performance attire.
They are:
Boys:
Black slacks, Black button-up shirt, Black shoes, Black socks, and provided tie. NO JEANS Link to Black Shirt on Amazon: Amazon Link
Girls:
Black skirt (knee length) or a Slack Pant, Black blouse, or shirt. Black shoes, Natural or black stockings/socks(if wearing). If wearing leggings, you need to cover with a skirt NO JEANS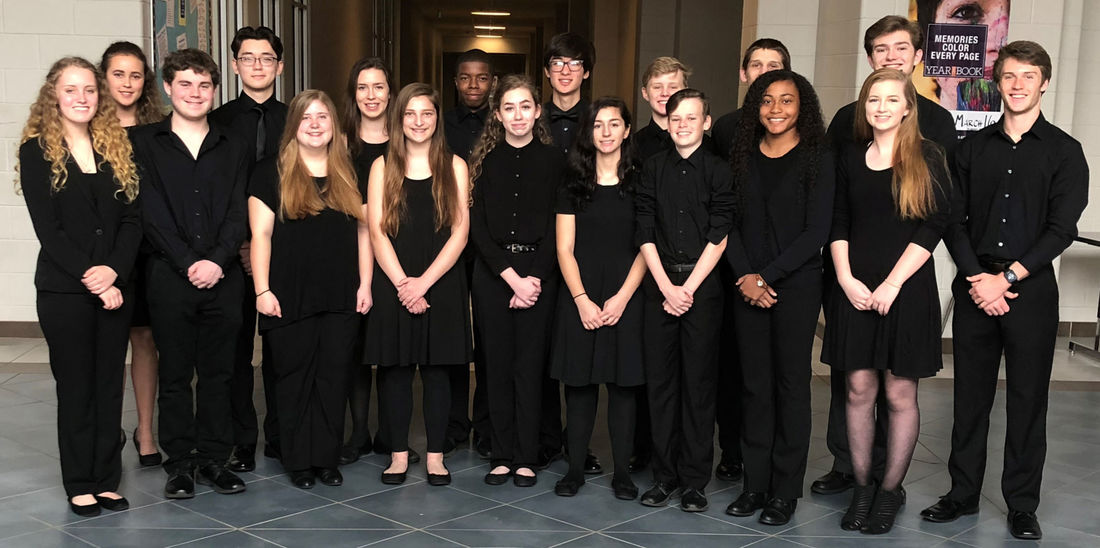 Performance Grades
When you receive the performance schedule please review this with your parents and put the dates on your family calendar so that no conflicts will arise. If an unavoidable conflict does come up, you must let the director know at least one week before the performance date with a written note from a parent. Such a note must describe the specific reason for your absence so that the director can determine if you may be excused. This will give the band time to redistribute parts before the performance. A note asking to excuse you from a performance less than one week prior to a performance, or after the fact, cannot be accepted.
Below are the criteria for PERFORMANCE GRADES:
A - You arrive on time for the warm-up, are dressed appropriately (see PERFORMANCE ATTIRE), behave appropriately in the warm-up, on stage, and in the audience, and stay with the band for the entire performance.
C - You fulfill all but one of the requirements for an "A"
D - You fulfill all but two of the requirements for an "A"
F - You fulfill all but three of the requirements for an "A"
Extra Help
If you are having difficulty with any of the music we are working on in class, you should come in before or after school for individual EXTRA HELP. However, you should always make an appointment with the director before coming in for help. They will also be glad to help you with any special music or audition material on which you may be working on.
Extra Credit
You will occasionally be made aware of concerts and recitals that you may attend for EXTRA CREDIT. To get credit, you must bring a program to band class the next school day. You must have your name clearly printed on it and it must be signed by one of your parents. Many of these concerts are free of charge. Performances by any other High School or Middle school will also qualify for EXTRA CREDIT.
Check with the director ahead of time if you will be attending any musical performance for which you would like to receive EXTRA CREDIT.